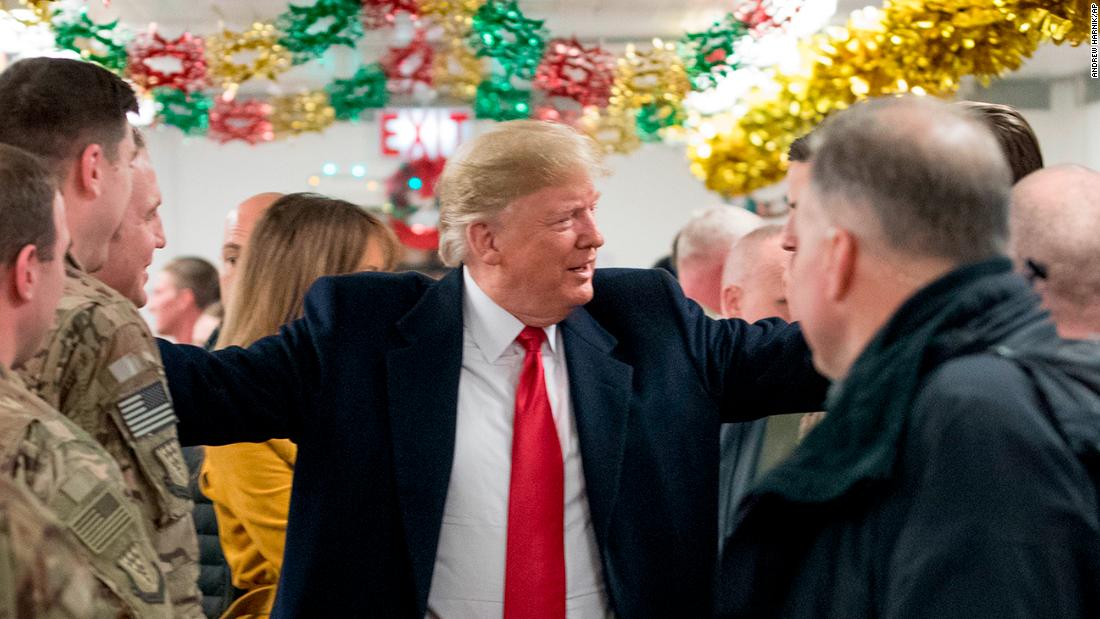 (CNN)"If the Democrats do not give us the votes to secure our Country, the Military will build the remaining sections of the Wall. They know how important it is!" President Donald Trump tweeted recently.
The President seems to love the troops, unless, of course, it's raining or there's a draft and he is required to serve. In both of those cases, well, the President was unwilling to inconvenience himself for the military. He is, quite literally, a fair-weather friend, engaging with the men and women who put their lives on the line to defend our nation only when it benefits him.
Until
Wednesday,
Trump had yet to visit the troops in a combat zone
out of concern
for "personal safety and legitimizing unpopular wars." It was reported Wednesday, however, that he stopped in Iraq for a post-Christmas visit and photo op with service members, during which he
called the troops
"warriors" and "patriots" who are getting "billions and billions of dollars of new equipment that (Trump) approved over the last two years."
This may appear on the surface to be a genuine effort to honor the military, but those who serve, as well as the rest of us, should not be fooled by the President's empty actions. Nor will we be.
"For it's Tommy this, an' Tommy that, an' 'Chuck him out the brute!'
But it's 'Saviour of 'is country' when the guns begin to shoot
An' it's Tommy this an' Tommy that, an' anything you please
An' Tommy ain't a bloomin' fool — you bet that Tommy sees."
Kipling's poem tells the stark truth of how many Americans feel about those who wear the uniform of the soldier, whether they choose to or not. We love them when we need them — when we are threatened, when we are afraid, when we want them to potentially sacrifice life and limb for our country. But how quickly in peacetime we forget the magnitude of that sacrifice.
Instead, active Tommies are putting in a hard day's work. And retired Tommies are standing in line at the Veterans Affairs hospital to get prescriptions for depression, anxiety and sleep disorders.
Yes, Tommy volunteered for his or her military service, but he or she volunteered for the good of the country and not for the President's personal agenda.
The lives of our service members are not pawns to be moved about a political chessboard. Our soldiers and sailors and Marines and airmen are not toys to be played with by a petulant, entitled child who could never imagine serving. And the President's "very, very" special words for the military are mere empty expressions of the hypocrisy of the elite who don't themselves defend our nation.
And when we thank our own Tommies for their service — when they come home from those combat theaters and the Mexican border — I expect that they will tell us the same thing that young Tommy said in that muddy field to the Duke of Wellington so many years ago. It was "all in a day's work."
And for that we should value them.
Original Article : HERE ; This post was curated & posted using : RealSpecific
Thank you for taking the time to read our article.

If you enjoyed our content, we'd really appreciate some "love" with a share or two.

And ... Don't forget to have fun!