She was the respected allotment committee secretary, he was an ambitious fellow plot holder: why did he kill her?
In a corner of London, close to the busy Edgware Road, there is a secret garden. Tucked away on a residential street, the gate has the words Colindale Gardens and Allotments Association messily painted on a white plank tied to the chain-link fencing. Beyond the gate is a broad expanse of grass and earth, of greenhouses, sheds, canes and polytunnels. You can hear the occasional rumble of a train, and in the distance you can see cranes constructing blocks of flats to house the next generation of gardenless Londoners. But the space here is so peaceful, so lush and full of birdsong, that you almost forget where you are.
The Colindale allotments are home to 90 long plots, mostly 20 metres by eight, arranged along two parallel grass avenues. The rules say sheds can be put up only on the end farthest from the path, giving the space the look of a miniature suburban neighbourhood, with plots in front of sheds instead of lawns in front of houses. A plot costs 85 a year. There are currently 60 people on the waiting list.
Rules are important here. The formal ones come from the tenancy agreement all plot holders must sign, which harks back to the Allotment Act 1908: if you break those, you risk forfeiting your plot. Then there are the five Golden Rules laid out on its website: number one is, We respect each other; number four is, We treat each other as we would like to be treated. Everything on the site is overseen by the allotment committee, a seven-strong team of plot holders that meets a few times a year in the grey concrete trading hut near the entrance. Beside it is the only other permanent structure on the site: a shed with a corrugated iron roof where the Mountfield lawnmower, used to maintain the communal pathways, is kept.
This is where Lea Adri-Soejoko, the allotment secretary and treasurer, was found dead at 2am on Tuesday 28 February 2017. She was lying on a wooden pallet, her face covered with a blue coat, still wearing her wellington boots. The starter cord of the lawnmower had been pulled out to its fullest extent and wrapped tightly around her neck. Lea had been strangled by a fellow allotment holder, a man whose plot was only metres from hers, someone she had known for nearly a decade. What might have driven him to murder an 80-year-old woman, in the place she had loved for 20 years?
***
Allotments are precious. There is huge competition for them, with more than 100,000 people on waiting lists in England alone. The high demand means those lucky enough to have one are under pressure not to lose it, to keep it maintained and respect the rules of the site. The benefits of having an allotment are proven: as well as providing owners with fresh home-grown fruit and veg, it helps to keep minds and bodies healthy. A recent study found that people who visit their plots for only half an hour a week have fewer weight problems, and a single session spent on an allotment has been linked to an easing of depressive symptoms and greater self-esteem.
These allotments are like little green oases, Adrian Clargo, the Colindale allotments committee chair tells me as we walk together down one of the grassy avenues. They provide a space for reflection, the opportunity for people, increasingly living in flats, who have no green space to breathe, to meet with other people, to engage with growing something organically.
Most of the people who have an allotment here are retired and have time to devote to maintaining their spaces. Clargo says only a handful identify as British: the majority are Iranian and Portuguese. The waiting list operates on a strictly first-come, first-served basis. Its just the way people have applied, he explains. Somebody gets a plot and they let their friends know, so their friends from the same community will all apply at the same time. You get these influxes of people.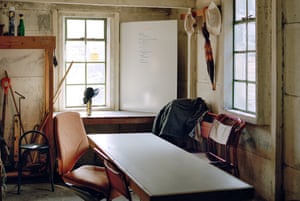 Original Article : HERE ; This post was curated & posted using : RealSpecific
Thank you for taking the time to read our article.

If you enjoyed our content, we'd really appreciate some "love" with a share or two.

And ... Don't forget to have fun!