Before I became a mother, I thought my feminism was a battle fought and won. But having three sons has challenged everything
Its always the things you think will be a doddle that end up causing most heartache. When I was asked to write about being a feminist and a mother to three boys, I imagined dashing off something witty, yet touching and wise, and never thought for a moment Id end up losing my temper (several times) or in tears, or storming away from meals, and feeling like a failure. Did not see that coming.
How do you raise boys? My extremely authoritative sources for this article were: my friends; my children (I interviewed two of them, but the middle one refused and now says, Is it a gender thing? every time it seems funny); my husband; some brilliant books; and a huge number of conversations, including one in the pub with a friend who is, genuinely, a professor of feminism. In no particular order, this is what I learned.
Misogyny is a thing you can catch off the internet (and other weird things about being a 21st-century boy)
We need to be as vigilant about this as we are about children watching porn. When Joe, now 13, my youngest, told me that 58% of rape accusations were false, I was stunned that hed got it so wrong. We researched the statistics and found that its more like 4-8%, at most. But if you dive into the web, you will find all sorts of fake news, anti-feminist bollocks sites like Return Of Kings, which aim to usher the return of the masculine man in a world where masculinity is being increasingly punished, with stories about how jealous feminists put hardworking Formula One grid girls out of a job. Here, knowledge is power: dont pretend these platforms dont exist talk about them, factcheck them.
Ive been a feminist all my life, but having children was the first time I fully understood what it was for
In the 1970s, from my childs-eye point of view, it seemed pretty much agreed that boys and girls were essentially the same; it was just society that turned us into boys and girls. Simone de Beauvoir had said: One is not born a woman but, rather, becomes a woman, and the whole planet had nodded in agreement, and that was that. As a teenager and self-proclaimed militant feminist, it was simple to fight the patriarchy; I just had to pick fights with my father. At university, I read and understood whole paragraphs of Elaine Showalter and Toril Moi. In the early years of my career in journalism, being a woman was no brake on being able to work as late, be paid as little and drink as much as any of the male reporters I knew.
Then I had sons. It may sound naive, but I hadnt really thought about how that would work. I had a vague plan that my husband, Mike, and I would divide the labour, that it would be equal and fair, that I would raise a bunch of lovely equal-opportunity children and that my life would more or less carry on as before. Feel free to snigger I deserve it.
But he had a job, I was freelance. There was no question about whose work would take priority. No matter how much Mike pitched in, the day-to-day reality was me, at home, trying to hold back a tsunami of washing-up and laundry and mess and boys and nappies and Lego.
I loved being at home with the boys. But this was not what I had expected and at times I felt caged and desperate. In all my years of blithely touting feminism, I had understood it only in an abstract way. Now I got it, understood that because I was the one with the womb and the mammary glands, I would be the one carrying the children and then feeding them. It was a startling window into other times and worlds, where, if you had no birth control and your body belonged to your husband by law, then you could just be impregnated over and over again, sidelined and kept at home. Suddenly my feminism was visceral.
To be clear: I dont think you only understand feminism if you have children. But the embarrassing truth is that, in my case, this is what happened.
You have to talk to your sons and then talk some more. Be prepared to argue
Looking back, there were a lot of things I should have talked more about to the boys. Many of my friends turn out to have strategised. One friend said: Make it normal to bring up topics around the table talk about Brett Kavanaugh, the middle-class white male dominance of government, pornography, social media, talk about strong women and men. Someone else admitted to constant nagging on my part about how to treat women, with the occasional lecture on systemic patriarchy.
Then there was the friend who admitted that her sons tended to be all, There goes mum, banging on about feminism again, yawn. I thought that sounded more like my house, but when I talked to my boys for this article, it turned out I hadnt banged on as much as I thought.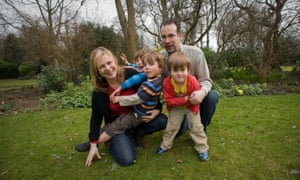 Original Article : HERE ; This post was curated & posted using : RealSpecific
This post was curated & Posted using : RealSpecific
Thank you for taking the time to read our article.

If you enjoyed our content, we'd really appreciate some "love" with a share or two.

And ... Don't forget to have fun!